Commercial Entertainment
Private Entertainment
Educational Events
Special Promotions
Commercial Advertising
Stage Performances
Television and Film

Scottie the Parrot

TM

"The Midwest's Most Loveable Performing Parrot"



---
Scottie is an 23-year old, very tame and highly-trained, Blue and Gold Macaw Parrot
Performing throughout Chicago and the Midwest since 1999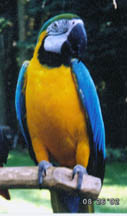 As a professional, Scottie is a most versatile performer, entertainer, model, and artist. His popularity is gained from a reputation of extreme gentleness and fondness of humans, right down to the smallest of children, of whom he is extremely loving and attentive.
He takes direction and instruction well and is meticulously cared for, making him not only a well-mannered bird, but one an extremely beautiful one.
Whether your project is entertainment, advertisement, educational, or performing arts, Scottie the Parrot can provide that special touch you need to make your project a success.

VIEW SCOTTIE'S PORTFOLIO

VIEW SCOTTIE'S PUBLIC SHOW SCHEDULE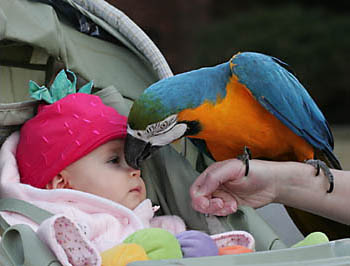 ---
I wanted to let you know what a hit you and Scottie were on Saturday. Having you there really made the event for us. I loved seeing all the smiles when I looked at the pictures afterward. Everyone was blown away by how friendly Scottie was, and I was impressed by how professional you were. By far the highlight of the whole afternoon!

Peabody Retirement Community


North Manchester, IN

I received a stack of positive comments from parents who said they enjoyed the presentation and would like you to come again...All of us enjoyed watching Scottie's tricks, and I was very impressed by the wide variety of things he could do...Members of the audience looked like they were having a dream come true when you let them touch and hold the parrot...10+++ Superb!

Fountaindale Library District

I was completely enamored with Scottie.
I have been a professional musician for 35 years and have played countless events where they have a bird like yours, but only in appearance. I have never, ever seen one so calm. Generally people can only look at it. I was shocked to see that Scottie could sit on anyone and be so calm, let alone on someone playing a banjo and singing!
I will recommend you any chance I get.


Bandleader and Manager
Banjo Buddies Dixieland Band

The Chicago White Sox would like to thank you and Scottie for joining us... We were very pleased with your interaction with our fans. Scottie was a great addition to this year's Beach Bash

Manager, Game Operations
The Chicago White Sox

On behalf of BP Products North America, I would like to thank you for the entertainment you provided... I have received positive comments from the team. We thoroughly enjoyed meeting you and Scottie who was a huge success. We will definitely keep Scottie in mind for future events.

BP Products North America

Our Barefoot Hawaiian shows are enhanced by the special appearances of our mascot, Scottie, and to add his presence to any event is perfect for adults and kids alike, corporate or hang-loose backyard parties.

The Barefoot Hawaiian

I just wanted to say how much we enjoyed Scottie. He was the highlight of the celebration and really stole the show. We both agreed that he was our favorite part of the entire day. You have exceeded our expectations by engaging the crowd and being so friendly.

Bride and Groom of a 2010 Wedding

Scottie the Parrot was a smashing hit - truly one of our best programs of the year. Every senior wanted to touch him and have their picture taken with him. The energy in the room was incredible; Scottie is so therapeutic. We had a great turn out and our residents look forward to Scottie's return.

Senior Lifestyle Corporation
Autumn Green at Wright Campus

I just want to thank you again...You two were a huge hit, as I'm sure you could tell by the length of the line of people wanting to get photos. Everyone was very impressed...Having Scottie there to greet people was a great final touch in creating our Holiday Party luau atmosphere.

Town and Country Homes

The entertainment rocked! A real high point of the afternoon was a certain Blue and Yellow Macaw named Scottie...[who] delighted young and old alike

Willow Creek Community Church

Thank you so much for Scottie's participation in the event that was held recently for the Hurricane Katrina Victims... Scottie was so friendly and his presence at the party really added a lot of fun for the kids and adults alike.

Maryville Academy

Scottie is very photogenic and a bit hit with the group

Inverness Country Club
---
For more information on hiring Scottie for your event or project, please call or email his owner and manager Lou Chatroop at the number or address below. If you were directed here by one of our agents, please return your contact to them to complete the booking for your event or project.
Phone: 630-495-7338


Scottie the Parrot is a part of LCC Enterprises, located in the Chicago suburbs. His core operating region is the Chicago area and the greater Chicago region of northern Illinois, Southeast Wisconsin, and Northwest Indiana, although he performs regularly throughout the entire Midwest. Scottie will perform anywhere in the continental United States by special arrangement.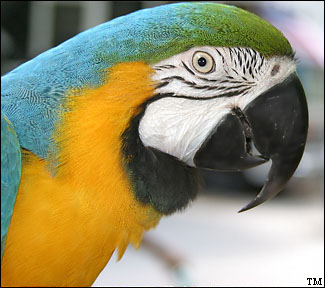 Luaus, Hawaiian-themed, and other tropical events is specialty of Scottie and he knows the business.
Scottie's friends and entertainment associates include Hula and Tahitian Dancers,
Fire Dancers, Hawaiian Band or Soloists, Drums, Props & Decor, and Supplies
Call us for any or all of your other Hawaiian entertainment needs.
Scottie is a friend of and recommends the Barefoot Hawaiian,
the largest and oldest Hawaiian entertainment company in the Midwest.